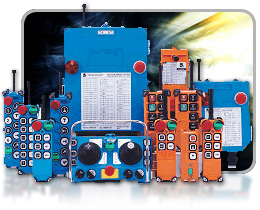 TELECRANE brand name of industrial radio remotes is polular since year 1985. We are currently exporting radio remotes over 45 countries around the world. Our products are certified under requirements of EN, CE and FCC standarts.

We are pioneers in inovations and propose for you industrial radio remotes with Microsoft Windows based software for easy customize configuration. It means, that you can change technical functions of transmitter under your's requirement by PC during several minutes and to send new data to receiver by wireless way without climbing to crane.

We hope that products of TELECRANE will make your job eassier and safer.